It's a ball. Not a puck.
No contact is allowed in field hockey, but call it a ball and you'll be reminded how rules are made to be broken.
From the outside, it's a cult. Hard to understand, with illogical rules that have been explained as "if a player does something that looks like a good play, blow he whistle and give the ball to the other team."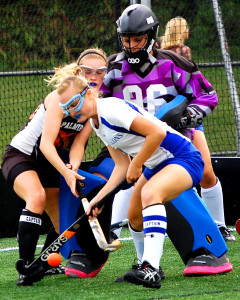 And blow the whistle they do. For the silliest things. Or so they seem to the casual, unknowing observer.
Not to the devotees. Not to the field hockey tribe that dominates the female sports culture in some parts of the state of Pennsylvania. At some high schools the level of devotion rivals that of high school football. Old grass fields are considered sacred — don't you dare play touch football on there. There are still a few of those around, though artificial turf is all he rage in field hockey these days.
The turf has changed the game immensely. It is still a skills game. Players can only touch the ball with the flat, "front", side of the stick. Really good players learn to flip the stick over to use the flat side on the backhand, or to control the ball as they dribble through traffic.
Maybe it is because every game I have covered lately has involved very good teams. It is entirely possible some o the weak high school teams I covered early in my sportswriting career still stink up the joint.
If that is the field hockey you are watching. My condolences. There are few things more painful than watching bad field hockey.
I don't know how much of that is still around because the last 15 years or so I have lived in an area that is a field hockey hotbed. Pennsylvania players dominate the rosters of the US National team at every age level. The Senior U.S. Women's team actually trains in Lancaster County.
Around here, those skills have increased across the board. The turf has made the game faster, its bounces truer. Those whistles, at least at games between good teams, have been greatly reduced.
The girls playing are far more athletic these days, too. Speed dominates at every position. It's a whole new game.
It's more fun to watch. But it still poses a real challenge to turn 60 or 70 minutes of 1-0 action into a story.
Here are some recent stories about field hockey, no doubt assigned because I happened to mention that I have covered a lot of field hockey over the years and understand the game "a little."
Who knew, 20 years ago watching lopsided games between the handful of good teams and everybody else, that some day I'd find a way to make a dollar off of my knowledge of a cult favorite game.
COLLEGE:
HIGH SCHOOL: