This story was originally published in March 2015 on OhBoySports.com
Penn State Harrisburg basketball coach Don Friday has this saying he likes. Talk to him long enough, you are bound to hear it.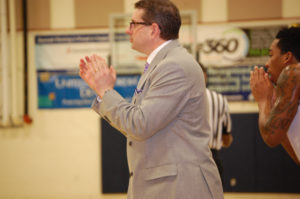 "Make the big time where you are," he says. 

He has been saying it for years. Picked it up off a kid from Pittsburgh who played for him and Pat Flannery when Friday was Flannery's top assistant at Bucknell.
That kid, J.R. Holden, did a pretty good job of following his own advice. Bucknell, in those days, was not the mid-major power it has since become. The school didn't even offer athletic scholarships back then.
Holden graduated from the Lewisburg, Pa. school and went on to make the big time where he was, becoming one of the most decorated players in Euroleague history. In 2003, when he was starring for CSKA Moscow and the Russian national team was starving for a point guard, the Shirtless Dictator himself issued a decree granting Holden Russian citizenship. Holden repaid Putin by scoring the bucket that gave Russia the 2007 FIBA EuroBasket championship and helping Russia qualify for the 2008 Beijing Olympic Games.
Holden's pro career started in Latvia, where he earned $400 a week. Before he reached Moscow, Holden also made stops in Belgium and Greece. At each level, he led his team to league titles. He made where he was at the big time.

THE LONG AND WINDING ROAD
Friday's basketball journey has not been as exotic, but he has made some stops in some pretty remote outposts. A good, but certainly not great, high school player at Pottsville High School in Pennsylvania's hard scrabble Coal Regions, he played one year of junior varsity ball at Lebanon Valley before hanging up his sneakers.
A chance encounter in a bar back home got him back in the game his senior year.

"I never saw him play. I never coached him," says Flannery, the guy who revived Friday's basketball career when he was named head coach at Lebanon Valley that year.
Prior to taking the Lebanon Valley job in 1989, Flannery had never been around Division 3 hoops. A standout player at Bucknell, he worked as an assistant at his alma mater, at William and Mary, and at Drexel – all Division I schools – before taking the Lebanon Valley job.
Friends familiar with the game at the D3 level, though, had given him some advice. Without a budget to pay for full-time assistants, good help could be hard to find. And, they told him, you will need all the help you can get.
The night Flannery, also a Pottsville native, got the Lebanon Valley job; he and some friends went to a local tap house to celebrate. Friday, who was friends with Flannery's nephew, introduced himself and offered his assistance. 

The kid was persistent. "He stopped by a few more times that night," Flannery recalls. "Finally I told him 'As soon as I get down to Lebanon Valley, come see me. I'll find something for you to do.' Monday morning he was there."
Flannery wasn't even moved into his new office yet when Friday showed up on his doorstep. He was working out of temporary digs in the school's admissions office. As promised, he put Friday to work. 

"I started out doing office work – hand writing labels, helping send out recruiting letters, whatever Pat needed done," says Friday. "October 15 rolled around and he said 'You going to be at practice tomorrow?"
Like that, a career as a college coach was born. For five seasons at his alma mater, Friday studied Flannery's feet, learning the game, on and off the court. By the time Lebanon Valley won the Division 3 national title in 1994, he had become Flannery's right hand. In fact, Flannery turned down the Bucknell job the first time it was offered because the school had a policy of retaining assistants who were under contract, a policy that meant there was no opening for Friday on Flannery's staff
Two days later, Bucknell relented, sliding popular alum who coached the school's jayvee program into another position to open a spot. With Friday in tow, Flannery accepted the job.
In 2003, after helping Flannery round up Bucknell's first-ever scholarship recruiting class – a bunch that a couple years later put Bucknell on the national map with a series of giant killer wins that culminated with a first round upset of Kansas in the NCAA Tournament – Friday stepped out of Flannery's shadow to become head coach at Division 3 Lycoming.
Friday spent five years at the Williamsport, Pa. school, twice winning conference coach of the year honors while compiling an 83-49 (.629) record. His career was taking off.
From there it was on to St. Francis (Pa.), a tiny Northeast Conference school in Loretto, Pa., an outpost about as remote as it gets in Division 1. Located on top of a mountain in the Alleghenies, 90 minutes west of Pittsburgh, Loretto consists of 1,300 or so residents and a nearby Federal prison with about that many inmates.
There are two bars, one pizza shop, a "superette" – sort of a cross between a convenience store and a very small grocery, and no stop lights. Upon arriving at DeGol Arena after navigating the narrow, winding, two-lane country road that connects to the nearest highway, a visiting sportswriter once remarked "St. Francis must be the patron saint of people lost in the woods."
It was there the wheels fell off.
STARTING OVER
Friday knew it would be a challenge trying to turn around a St. Francis program that had one winning season in the 10 prior to his arrival. Recruiting to such a desolate location was a daunting task. Friday turned that to an advantage, appealing to parents to send their kids to a school where they would have few distractions.
Despite the challenges, he made headway. His second year the Red Flash made it to the NEC playoffs. They made it back again the next year with a young team, and seemed poised to break out in what turned out to be his last season there.

The first blow to those hopes came in the off season, when rising junior Will Felder decided to take his talents elsewhere. Felder would go on to be a two-time All-MAC pick at Miami (Ohio).
Despite losing a key piece, Friday felt good about his team when the 2011-2012 season tipped off. Those feelings lasted until the final minute of the season opener, when, trailing by just three at Virginia Commonwealth, guard Umar Shannon, the team's leading scorer the previous season, blew out his knee and was gone for the season.
It went downhill quickly from there. A week or two later Friday's starting point guard was caught breaking into another student's dorm room. Although the University's rules did not require it, Friday summarily booted the kid off his squad. The backup point guard, who was peripherally involved in the incident, was suspended for the season.
"Up until that point, I thought our backcourt was our strength," Friday says. "But you can only say next man up so many times."

 Forced to play a small forward out of position at the point, and lacking any real perimeter scoring threat, St. Francis struggled to a 6-23 finish. But with Shannon expected back, and sophomore big man Scott Eatherton beginning to blossom, Friday had much to be optimistic about heading into the final year of his contract.
That one last chance never came, though. In late April, St. Francis athletic director Bob Krimmel fired Friday. The next day Krimmel hired his own son, who had been an assistant on Friday's staff. It was a series of events one local beat writer said "reeks to the high heavens."
Friday maintained a gracious front. To this day he refuses to share the view many of his friends and supporters have about how he was treated at St. Francis. "Bob Krimmel gave me an incredible opportunity," he says. "I have no regrets about that."
Inside, though, Friday took the firing hard. "I was like a ship without a port. That was all I identified with, being a college coach," he says. "It was the first time in 22 years that I was not a part of something. There were days I was in my pajamas until four in the afternoon. I had no place to go, nothing to do."
AN OLD RIVAL TO THE RESCUE
It was a crazy idea. At least that was what some people tried to tell Frank Marcinek. No good could possibly come from bringing a former Division I head coach on board as an assistant at a Division 3 school.

Egos would clash, folks warned Marcinek. Some thought Friday might be a threat to Marcinek's job if his Susquehanna University team had a bad year. 

Marcinek, though, saw things differently. When Friday was with Flannery at Lebanon Valley, the two teams were in the same conference.
The Valley had been Susquehanna's arch nemesis. Marcinek had some of his best teams during that period, but they never seemed to be able to beat Lebanon Valley.

 That competition, though, had built a lot of mutual respect. When Flannery and Friday moved on to Bucknell, Friday, still a bachelor at the time, often would leave Bucknell's practice and make the fifteen mile drive down U.S. Route 15 to watch Marcinek's team work out.

 "I was always impressed by him as a person and as a coach. He was always a student of the game. I thought it was a win-win," says Marcinek.
Marcinek also thought Friday's areas of expertise would complement his own. Retired from the Bucknell job, Flannery would drop in from time to time to visit and Marcinek had been picking Flannery's brain about the matchup zone Flannery's teams employed to great success.
"By hiring Donnie, I thought I'd get a little bit of Pat Flannery," Marcinek says. "I have always been more of an offensive minded coach. Donnie has always been more defensive minded."
The timing of Friday's firing at St. Francis came well after the Final Four, where the nation's coaches gather for their annual convention and many staff vacancies get filled. After a fruitless search all summer, Friday was beginning to face the cold, hard reality that he might be done as a college coach when Marcinek's call came in mid-November, just before the start of the 2012 season.
"It was unbelievable timing," says Friday. "We had sold our house (near St. Francis) and were moving back to Pottsville. Frank called me up and said 'Donny, I am going to say something crazy, but just listen for a second.' "
The first thing Friday promised was to be the kind of assistant he himself wanted when he was a head coach. "I told him I'd be loyal and know my place. I told him 'You don't have to worry about me being anything but an assistant coach because that was what I would want in an assistant."
"Donnie had an assistant at St. Francis who tried to change the way Donnie did things. He never did that here," says Marcinek. "To go back to being an assistant in Division 3 was a challenge, but he put his ego aside and worked his tail off."
The Susquehanna gig was a temporary reprieve. The job description for the position actually calls for it to be filled by a young, aspiring coach looking to get their foot in the door. Marcinek was able to convince his administration to let him hire Friday for one year because the guy who previously held the position left for another job close to the start of the season.
Not that it mattered. With his savings dwindling, and a wife and young son to support, Friday could not have afforded to spend another year commuting more than an hour each way for a part-time salary. But the job had served its purpose; it kept him in the game and bought him time to try to find another coaching job.


ALMOST OUT
Finding that next coaching job was harder than you might expect it would be for someone with Friday's resume.
"The college business is fickle. There are not that many jobs out there. And I probably got shut out of 40 jobs. But the 41st one, that was the one," Friday says.
The call came in August. At the time, Friday had almost resigned himself to leaving coaching and putting the MBA he earned while at Lebanon Valley to work. He had been through two interviews for a position with a bank. If all went well on a planned third interview with a guy from the corporate offices, and his background check worked out, Friday was about to go to work in a remote branch office located in a small, rural supermarket.
With his school's young athletic program about to take a big step up to one of the top Division 3 conferences in the Mid-Atlantic region, Penn State Harrisburg Athletic Director Rahsaan Carlton was looking for the right guy to lead that charge.
"We came from a conference, the North East Athletic Conference, which was a good fit for us to start off in. We all knew making the leap to the Capital Area Conference would present some challenges instantly," says Carlton. "Coach Friday is a tremendous fit. We feel very fortunate to have him. He has done a great job coming in. Don is our first full-time coach. We stepped up to make that commitment to be at this level."
To be certain, the Penn State Harrisburg job is a tremendous challenge. A former commuter branch campus, PSU-Harrisburg shares little with its better known Division I big brother other than a name and a strong academic reputation.
The campus is spartan, with just a few buildings and fewer amenities. There are ambitious plans to grow the school. But for now there are only 500 dorm room beds on campus. Most students live in private housing off campus in nearby Middletown. The basketball teams share the campus' one gym with student rec programs. The only time coaches can reserve gym time for workouts is in season.
Friday sells the sizzle, not the steak. Where big Division I schools might walk a recruit into the arena and flash their image on the scoreboard Jumbotron, Friday takes a different approach.

 "I show this to the parents of kids I recruit," he says, displaying a duplicate Penn State diploma personalized with a recruit's name. "I found the image on the internet and scanned it in so I can change the name."
A Penn State diploma can be a powerful tool, especially in the Keystone State, where the University's large alumni base provides a potent network for job seekers. 

While the main campus basks in millions of dollars of athletic revenue, Friday's program is like the red-headed stepchild. There is no extra money available for replacement shoes should a kid blow out a pair of sneakers late in the season. The compression shorts guys wear under their uniforms are collected at the end of the season to be reissued the following year. The men's and women's teams share a bus to away conference doubleheaders to cut costs.
Such constraints are not necessarily uncommon in Division 3. But many schools are able to overcome such challenges thanks to generous alumni donors. But what works at schools that have been in existence for more than 100 years and have fielded teams for decades does not work at schools that only reinstituted their athletic department in 2005 following a 10-year hiatus from what was for all intents and purposes a glorified intramural program competing mostly against other Penn State commuter branch campuses.
"We are a fairly young athletic department in general," Carlton says. "The other schools in the CAC have long traditions in athletics, particularly in basketball."
Carlton is patient. He is not discouraged by this year's 3-23 record. Carlton played at Penn State's main campus when the Nittany Lions made the leap from the Atlantic 10 to the Big Ten. He understands there will be a period of adjustment. He also understands Friday is working to build the program from the ground up.
"It takes a while to take hold. It takes several recruiting classes before you see the fruits of your work," says Carlton. "Coach Friday is a great fit here. He is building a foundation."
Part of this year's record can be traced to defections of players who decided they were not willing to make the increased commitment Friday demanded when he took over the program. Preseason weight lifting sessions at six in the morning and organized off-season workouts were a shock to the system for some players whose idea of off-season preparation was playing pickup games.
"Before, we had open gyms, but we didn't lift. We didn't work on skills," says senior Joey Farthing, a captain of this year's team. "We didn't spend much time on film. We didn't have the in-depth scouting reports we do now. The intensity level has definitely shot up. Coach Friday has changed the culture."
"Right now, we are at the lower end of the CAC. But in the next year or two, we will be in the middle, if not upper. And in a couple of years, we will be contending," Farthing adds.
Farthing is not the only believer.
"There is potential there. He hit it at a bad time, moving into that new conference. They were unequipped for it, personnel wise," Marcinek says. "I'd bet any amount of money he will get it going. He will. It is just a question of how long it will take."
"If he stays there, he will win there," says Flannery.
THERE FOR THE LONG HAUL
It is fair to question whether Friday might stay at Penn State Harrisburg long enough to win a CAC championship. Despite his struggles to find a new job after what happened at St. Francis, Friday will no doubt become a hotter commodity if he starts to win there.

Friday, though, has made a commitment to the Penn State Harrisburg program and he intends to honor it. He preaches loyalty to his teams and to his son. It is important to him to live by his own words; even more so after what happened at St. Francis. 

"Rahsaan Carlton gave me a break. He took a chance on me. I want to make sure we make him proud," Friday says. "We're going to continue to stay at it until we get this thing right."
So Friday is working to make his fledgling program his big time. To make up for funding shortfalls, he runs camps and coaches clinics. He worked local connections to get support for a tourism grant from the county to help start a tip-off tournament he hopes will be an annual fundraiser for his program.
And he has made believers out of his players, who share his commitment to make this their big time.
"Coach Friday says it doesn't matter where you are at, you need to put in the same effort," says Farthing. "He is pushing us to new heights." 

Friday got a lot of buy-in right from the start when he showed up for the 6 a.m. preseason weight sessions and hit the exercise bikes and treadmills while his players hit the weights.
"It was different. He was there with us," says Farthing. "He didn't just send us to do early morning workouts. He was there with us."
It's an approach that has won Friday devoted followers wherever he has coached.
"Coach Friday really exemplifies loyalty,' says Charles Lee, one of Friday's recruits at Bucknell, now an assistant coach with the NBA's Atlanta Hawks. "He is a very genuine guy. It doesn't surprise me that he has devoted so much personally and that he wants to see it through."
"He is committed to Penn State Harrisburg. He could have other opportunities, but he won't even talk to anybody else right now," Flannery says. "He is committed to those kids. He is committed to that school. That is where he wants to be."